A very exciting collaboration has been coming together over the last few months between QuTec Pershore Ltd and our friends at Freddy Products Ltd and their customers; MTS Jets and Sanborn Technologies in the USA.
A total of six off 20` length x 5` width x 5` height Stainless steel 316TI fabricated Skids have been produced in full here at QuTec Pershore LTD to hold large jet aeration tanks. These will be installed by the end user in Belgium.
The Process
Due to the grade of stainless steel required (Stainless Steel 316TI) and the cost involved, all material requirements were meticulously researched through the procurement stage as QuTec only had one shot at this project. QuTec had to source material directly from a mill in Germany and exact quantities of TI channels, angles, bar, tube, and laser sheet, processed to precise dimensions and tolerances were acquired.
Once in receipt of materials, the skids were fully welded using Synergic MAG and all welds brushed with stainless steel for appearance and quality control. Other processes required included CNC laser cutting and forming from stainless 316TI sheet.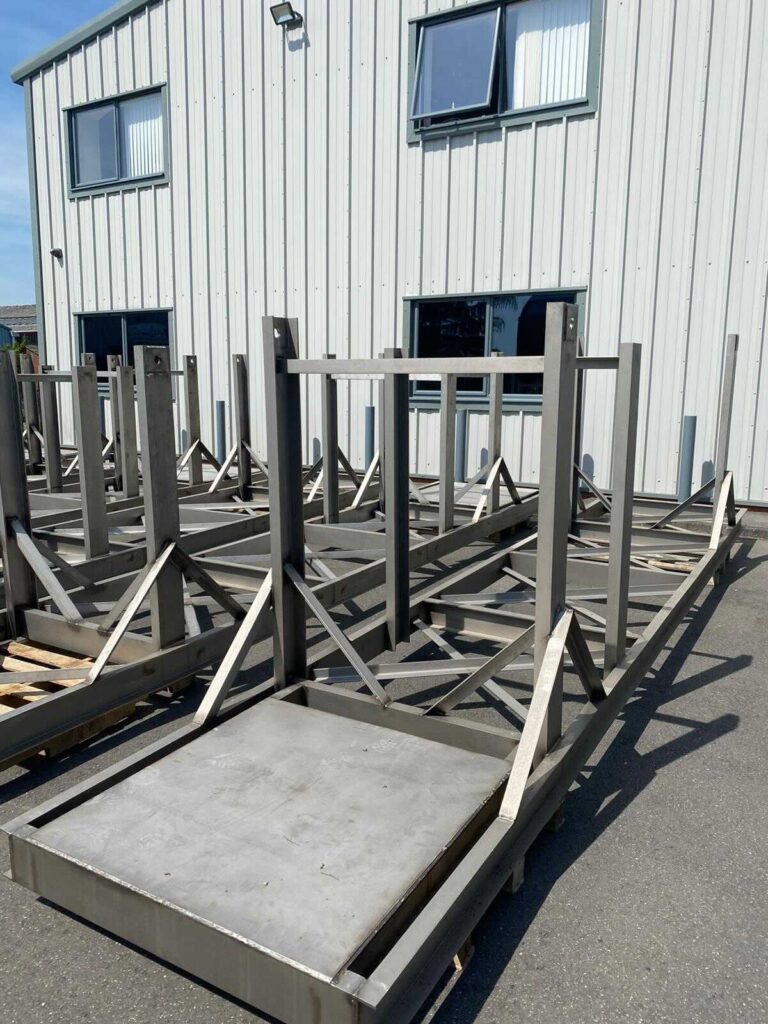 The Challenges
The largest single fabrication project of the year thus far, and at times due to the complexity and rarity of the specified materials, a rather challenging one to overcome. The sections of Stainless Steel 316TI were simply not available to source in the UK and had to be procured directly from a steel mill in Germany. Due to Brexit and new importing regulations, potential issues with lead times required by the customer chain had to be successfully overcome.
Regular weekly "Zoom" meetings were facilitated with all customer parties, both in the UK, USA, and Belgium throughout the project process. Communication channels were optimised to ensure all stakeholders understood design, technicalities, procurement challenges and lead time. This was essential for the end-user's project preparation once the skids arrive in Belgium.
QuTec prepared its manufacturing processes meticulously and carried out all the necessary fabrication prep work, resulting in a very fast turnaround of welding and dressing operations once key channel and angle materials finally landed on site in Pershore, Worcestershire.
All six skids were engineered ahead of schedule, and they are being shipped to Belgium this week!